Our bedding is built for comfort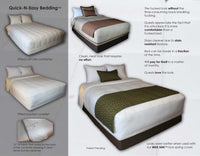 Quick-N-Easy Bedding
The Quick-n-Easy Bedding™ system is a combination of a specially designed comforter and coverlet that work together to create a clean, "tucked look" without any tucking! This makes it MUCH easier for you to make the bed. This saves time and money and the bed looks perfect every time! You will never struggle again to make the bed look great…. It will always look great!
Shop Now
Peach Touch™ Comforters
You will understand why we say "Love your Bedding" once you sleep with our exclusive Peach Touch™ Comforter. Our exclusive "Peach Touch™" 100% Microfiber polyester is super soft. Our non-allergenic "Loft Lite" 100% Microfiber polyester fiber fill is warm and breathable.
Our comforters are machine washable, and unlike down filled comforters no animals were harmed or killed in the making of this product.
Shop Now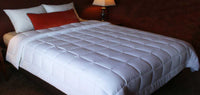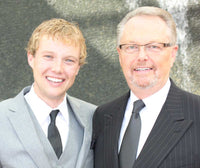 A Family Company
Our family owned company, Whyte Design, has been making the best quality bedding at low, factory direct prices for over 40 years. We make bedding for the hotel industry that is very particular about quality, durability, and wash-ability.
We've had so many requests from hotel guests wanting to buy our products that we now sell direct-to-consumer.
We love our bedding and hope you will #loveyourbedding too!
OUR MOTTO: LOVE IT OR RETURN IT.